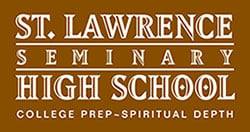 St. Lawrence Seminary High School provides a residential college preparatory education in a living Catholic community nurturing mature, well-rounded man of faith, who prepare for a life of ministry as priests, religious and lay leaders in the Church and world. Located in Mt. Calvary, Wisconsin, St. Lawrence is one of the few Catholic Boarding High Schools in the upper Midwest and has a unique blend of faith, activities, and fraternity with current students, parents and alumni. They have diverse students from across the globe and have been an active high school for more than 150 years.
St. Lawrence wanted help both redesigning their website and with digital marketing. It had been five years since they had a website refresh, and they felt it wasn't user-friendly and wasn't easy to update. They didn't only want to generate potential leads for enrollment, but they also wanted to make it easy to keep parents and alumni in the loop about "life on the hill." They also wanted to use digital marketing to generate leads and to keep information going outward to parents and alumni. With these varied goals and the nature of information updates that a school has each year, St. Lawrence opted to do a Growth-Driven Design website in conjunction with an Inbound Marketing program.
BizzyWeb had a launchpad website up within 60 days and then used the Growth-Driven Design methodology to continually improve the site and update the most relevant pages over the next year. While we did that, we did an intensive marketing program that communicated with all of their varied audiences: prospective families, current students and families, and alumni. With automated campaigns based around enrollment, communication and event strategies, Inbound Marketing was the way to go. In the second year of the program, we're continuing with our current and past student communication strategies and spending the majority of the program on recruitment for enrollment strategies.
THE RESULTS
Here's How the Atoms Lined Up
0
%
Online registrations for enrollment events
0
%
Form submissions & click to call
0
%
Calendar of events traffic More than an agency
we are a partner
The next step is yours
Let's talk