Inbound marketing is customer-oriented and customer-driven
Simply put, inbound marketing starts with
valuable content that your target audience wants
, instead of just advertising your services. In a traditional marketing model, you would simply "spread the word" about your business through print or online ads. With inbound marketing, you instead focus on providing valuable information or items your customers can use. For example, you might start with an
ebook, a quiz, a checklist or a blog
that your ideal customer might find useful. You dangle that content offer to get nibbles in exchange for a form fill or phone call, and then follow-up with more
direct advertising
.
How to Get Started with Inbound Marketing
Inbound marketing directly responds to current consumer behavior. With the whole world at their fingertips (literally or figuratively), consumers are more empowered than ever to do their own research and reach out to you on their terms. How people communicate with businesses has changed. And how people expect to be communicated with has also changed. Consumers don't want to hear about how awesome you are and how many years you've been in business – they want to see you can meet their needs and address their pain points before they even have to ask.
It's important to understand that inbound marketing is an arm of digital marketing and business methodology. Inbound marketing is a mindset of continuous growth and discovery. An inbound marketing strategy spans across multiple channels. For example, every single thing that you post on social media won't necessarily tie back to a specific inbound marketing campaign. However, inbound methodology sits behind everything that you do – why are you posting this piece of content to social media? Does it advertise your services, delight current customers or provide education?
It's All About the Buyer's Journey
There are two core tenets of inbound marketing that go hand-in-hand: the
buyer's journey
and
the flywheel
The buyer's journey defines the steps people take when deciding to use a service or purchase a product. The flywheel is the mindset that it's not enough just to attract people to your website – you have to continuously provide resources and help after they become a customer.
Providing value to your existing customers is just as important as attracting
new customers.
The stages in the buyer's journey are the oil that allows the flywheel to spin faster: Attract, Engage and Delight.
Attracting is about using your expertise to create content and conversations that start meaningful relationships with the right prospects.
Engaging is about building lasting relationships with customers by providing insights and solutions that align with their roadblocks and goals.
Delighting is about providing an outstanding experience that adds real value, empowers people to reach their goals, and become promoters of your company.
Inbound Marketing Strategies
At each stage of the buyer's journey, you want to provide value that attracts, engages and delights customers.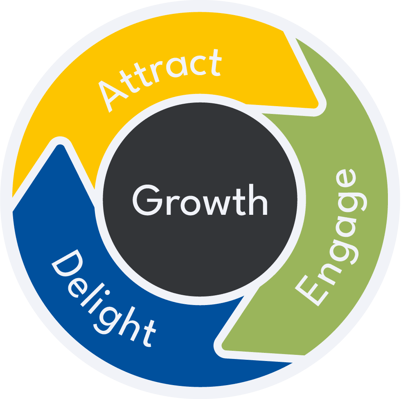 Attract Tools
Research or Analyst Reports
Blogs or Editorial Content
eBooks & eGuides
Quizzes
Whitepapers
Templates & Worksheets
Checklists
Engage Tools
Comparison Whitepapers
Expert Guides
Live Interactions
Chatbots
Specific Service Info
Podcasts
Videos
Delight Tools
Vendor Comparisons
Product Comparisons
Surveys
Case Studies
Knowledge Bases
Trial Downloads
Live Demos
Attracting Strategies
Everything begins with content. In order to attract people to your website, social media, email or blog through inbound marketing, you need to provide valuable content. Start with free content such as blogs, social media posts and pages on your website. This could include promotions/discounts, information on how to use your product, customer testimonials and an explanation of your services. Once you have a solid foundation of base content, you'll move onto content offers.
Content offers are more in-depth content pieces that you offer to your audience, typically in exchange for an email or phone number. These include:
eBooks:

Take a look back at

some blogs

you've done – a simple eBook idea is to take a few blogs you've written on the same topic and compile them into one larger eBook.

Quizzes: You can create targeted quizzes related to your industry and gate the results – simply have people enter their email before they can see their results. Quizzes are unique content offerings in that they're interactive and allow you to mine more information about your leads before you meet with them.
Gated Videos: Try creating a webinar about a topic that you're knowledgeable about (or even have a roundtable discussion with other thought leaders in your industry). You can then work this into an inbound marketing campaign by gating the video – requiring visitors to fill out a form or RSVP online before they are given access to the video.
Templates/Worksheets: Templates or worksheets are a fantastic way to deliver content to your audience that they can use. Best of all, these content pieces will be used again and again.
Checklists: A checklist can help someone new to a process or concept navigate through it with ease. Checklists are also very simple to create as they're typically only a few pages in length.
Once you have compelling content, you can attract new visitors to your website with an SEO strategy. Optimize all your content and target the keywords relevant to your products or services. This will propel your content forward to appear organically in search results. Having a strong SEO presence backed up with content allows your ideal customer to find you on their own.
Engaging Strategies
After you've attracted an audience with valuable content, make sure you then engage with them strategically. After someone submits a form to download a content offer, that should not be the last time they hear from you.
There are two main types of engagement strategies you can take: automated and manual. The best inbound marketing strategies use both techniques.
Automated communication includes tools like chatbots and email automation. After someone downloads a content offer, create a series of follow-up drip emails that include other relevant content pieces and opportunities to connect with your business. A chatbot can be used globally on your website to answer basic questions and give visitors direction.
Manual communication depends on your business' sales strategy. Make sure your sales team has an understanding of inbound marketing methodology so that they are solution selling, not product selling. This approach is mutually beneficial – you provide the right value for your right-fit customers.
Delighting Strategies
Your current customers have the potential to be the most powerful brand ambassadors, but are often ignored in digital marketing strategies that focus on bringing in new leads. Beyond that, it's simply good business to take care of your current customers after they make a purchase, so they feel valued and respected.
Chatbots and surveys are fantastic, automated ways of keeping in touch with current clients. Like in the engaging step, chatbots can be used on your website to help current customers find their way, too ("How do I pay my bill online?"). Surveys allow you to solicit information and source reviews from your audience that doesn't require much effort on their part. When rolling out a new product update, send a survey to your clients to get their feedback.
Social media is a fantastic tool for delighting current customers. They can use social media to ask questions, provide feedback or share their experiences. When you respond publicly, potential customers can see the care you take with your current customers. This also makes current customers feel heard and seen.
Finally, remember that a truly successful inbound marketing campaign focuses on the customer, not on the bottom line. Whether or not your business sees any direct value or ROI from a situation, inbound strategy focuses on delighting customers in any situation. Every action has a ripple effect – taking the time to respond to a customer's question on social media may not earn you money in that moment, but a customer who feels heard and loyal to a company may recommend your business to a friend.
How Many Leads Does Your Sales Team Need?
BizzyWeb's Lead Calculator helps you get to the actual number of leads needed to accomplish your goals through marketing.
Inbound Marketing Tactics
Inbound is a mindset that informs all your marketing campaigns. Now that you know the stages of the buyer's journey and how it creates a constantly-moving flywheel, it's time to talk tactics. When building digital marketing from the ground-up, you'll start with six key steps.
1. Set SMART Goals
If you don't know what you're marketing toward, it's pointless to pour resources into inbound marketing. Before you set off on your journey, make sure you set some SMART goals. SMART goals are:
Specific – Your goal needs to be unambiguous and clear.
Measurable – You should define a concrete way of measuring progress toward your goal.
Attainable – It needs to be realistically achievable for your team.
Relevant – Your goal needs to make sense for your business and overall business goals.
Timely – It's important to set a time limit on goals to keep them in check.
With these criteria, you can go beyond a vague idea to something more solid. By setting SMART goals, you can most effectively track your success and ROI. An example SMART goal is: "We want to see at least 10 downloads of our eBook each month." Set your SMART goals using our free template.
2. Create Buyer Personas
Buyer personas are fictional, generalized representations of your ideal customers. The strongest buyer personas are based on market research as well as on insights you gather from your actual customer base (through surveys, interviews, etc.). If you're new to personas, aim for 3-5 to have a solid foundation. For rockstar personas, use our free how-to guide.
3. Keyword Research
Armed with your goals and ideal customer in mind, it's time to start getting into the specifics of your inbound marketing campaign. Keywords are the vehicle to getting your website found online. What would your ideal customer search for online to find you? For BizzyWeb, it's phrases like "web design Minneapolis" or "what is inbound marketing."
4. Create Assets
In marketing lingo, "assets" are the actual content offers you'll use in your marketing to draw people in. This can be blog posts, online ads, social media images, emails, etc. For inbound marketing, you'll want to take what you learned in steps 1-3 to create valuable content to build a campaign around. This could be an eBook, an online quiz, a checklist, a template, even a game – whatever it is, it should be built with your personas in mind.
5. Set it Live
Once you have the meat of your inbound marketing strategy ready to go, it's time to put it into action to start getting found. It's time to turn on your advertising, set up automation and plan and schedule content pieces. During this stage, it's vital to map out all your content beforehand and make sure it's all working together. That's where a marketing tool like HubSpot comes in. Streamline all your content assets into clear pathways that lead your personas to your end goals.
6. Analyze
When your inbound marketing is live, it's important to treat it like a living creature. Make sure to consistently monitor your performance and adapt your strategy as needed. No matter how much research you do, you'll still have to adapt once your content is out in the wild. You may find that people aren't clicking on buttons or that blogs you didn't think would see much engagement are runaway successes. Once you have your initial data, follow steps 3-6 again with your discoveries.
Free Guide: The Beginner's Guide to Inbound Marketing
A step-by-step guide on how to create an inbound marketing strategy, including building buyer personas and setting SMART goals
Inbound Marketing with BizzyWeb and HubSpot
You've learned the what, why and where of inbound…now for the how. Inbound marketing is a multi-channel and multi-person strategy that is difficult to wrangle on your own. BizzyWeb is a Minneapolis-based digital and inbound marketing agency that creates powerful inbound campaigns for our clients and provides education so our clients can become powerful inbound marketers themselves. As a HubSpot Partner Agency, we rely on the power of HubSpot's suite of inbound-ready tools to execute these tactics.
HubSpot offers marketing, sales and service software that allow your inbound campaigns to work seamlessly. Through their tools, we organize, track and build better relationships with your customers.
Inbound Marketing Process

Inbound marketing is customer-oriented and customer-driven. Simply put, inbound marketing starts with valuable content that your target audience wants, instead of just advertising your services. In a traditional marketing model, you would simply "spread the word" about your business through print or online ads. With inbound marketing, you instead focus on providing valuable information or items your customers can use. For example, you might start with an ebook, a quiz, a checklist or a blog that your ideal customer might find useful. You dangle that content offer to get nibbles in exchange for a form fill or phone call, and then follow-up with more direct advertising. Inbound Marketing includes two phases.
1
Strategic Gameplan
Our team will perform a complete website audit and strategy. The results will tell us how your prospects, leads and customers are interacting with you digitally. This will arm us with the information we need to develop a comprehensive program that will engage your audiences, and allow room for growth in the future as technology evolves. This document is yours to keep for future reference.
2
Onboarding
This is where a lot of heavy lifting happens. We'll create a HubSpot account for you, get everything set up, import your contacts, create workflows and set up sequences. During this stage, we'll likely be in frequent contact with you to ensure that everything is created the way it should be.
Phase Two: Inbound Marketing
1
Build
This is the phase where we create all of your marketing assets: inbound materials, landing pages, social media pages and posts, pay-per-click advertising, search engine optimization/keyword lists, blogs, etc.
2
Launch
Your inbound marketing campaign is made live and we begin all online advertising and content marketing efforts. Promotion is key to a successful campaign, so we will focus advertising, social media posts and email marketing around each campaign.
3
Monitor
We monitor and analyze how your campaign(s) perform and where/how your audience engages with you.
4
Monthly KPI Report
We compile our findings into a report.
5
Monthly Client Meeting
We meet with you to discuss your report, our findings, and where we can improve. Quarterly trends and annual benchmarks keep us on track to meeting your goals.
6
Quarterly Review
Each quarter, we host a brainstorming session. During this session, both of our teams lay out ideas to create new inbound campaigns. This brings us back to Step 1: Build. More than an agency
we are a partner
The next step is yours
Let's talk