Content marketing is the strategic creation and distribution of valuable, educational and/or entertaining content with the underlying goal of trying to drive sales or a profitable result. Content is inherently at the core of all marketing strategies, but content marketing is more than just throwing pasta at the wall and seeing what sticks. Content marketing is an approach that ensures valuable return by investing time, energy and skill into producing content your audience wants to engage with.
What are Types of Content?
Content marketing can be complex, because content can be complex! It's a broad term that refers to a wide array of words, images and video. The most common types of content include:
Website Copy – These are the actual pages on a website (like this one!)
Landing Pages – These are dedicated website pages that are aimed around a specific goal – such as getting someone to sign up for a free trial, purchase a specific product or download an eBook.
Blogs – Whether they're called blogs, articles, news or industry updates, these are all pieces of content that focus narrowly on one specific topic.
Videos – From TikTok to YouTube, video content is prolific online.
Images – Yes, images are content too! This can be as simple as a picture on a page or as complex as an infographic.
Inbound Assets – This sounds complicated, but this refers to anything downloadable – think white papers, checklists, templates, eBooks or reports.
Social Media Posts – These includes text, video and/or images.
Emails – No, not the ones you send to your co-workers: these are marketing emails that go out to potential, current or past clients.
Ad Copy – This refers to the actual text in an ad, but can also include images and video as well.
In broad terms, most of the "meat" of what you find online is content in some form.
Content and SEO
Many business owners make the mistake of viewing SEO (search engine optimization) and content as two separate tactics. The truth is that SEO and content go hand-in-hand: you can't rank on Google unless you have content, and your content can't rank unless you do SEO.
Without content, there is nothing to rank for. Google's Algorithm aims to show each searcher content that best answers their search query. This means that the better your site answers a searcher's questions, the more likely it is to show up higher in Google.
Read Now: How to Create SEO Content.
Content and Digital Marketing
Content marketing is often an arm of a broader digital marketing strategy. You'll find that every facet of digital marketing involves content in some form:
Online ads – text, video and/or images
Email marketing – text and/or images
Social media – text, video and/or images
For that reason, a content marketing strategy is core component of a digital marketing strategy. A content marketing strategy maps out what types of content will be used and where and how they will be distributed, with the end goal being to send people to your website to learn more.
Content and Inbound Marketing
Content marketing is also crucial for inbound marketing. Simply put, inbound marketing starts with valuable content that your target audience wants, instead of just advertising your services. For example, you might start with an ebook, a quiz, a checklist or a blog that your ideal customer might find useful. You dangle that content offer to get nibbles in exchange for a form fill or phone call, and then follow-up with more direct advertising.
Inbound marketing requires content in order to work. This is often a longer-term content marketing strategy than traditional digital marketing, but one that yields greater return.
Outline your company's customer journey and experience with these 7 free customer journey map templates.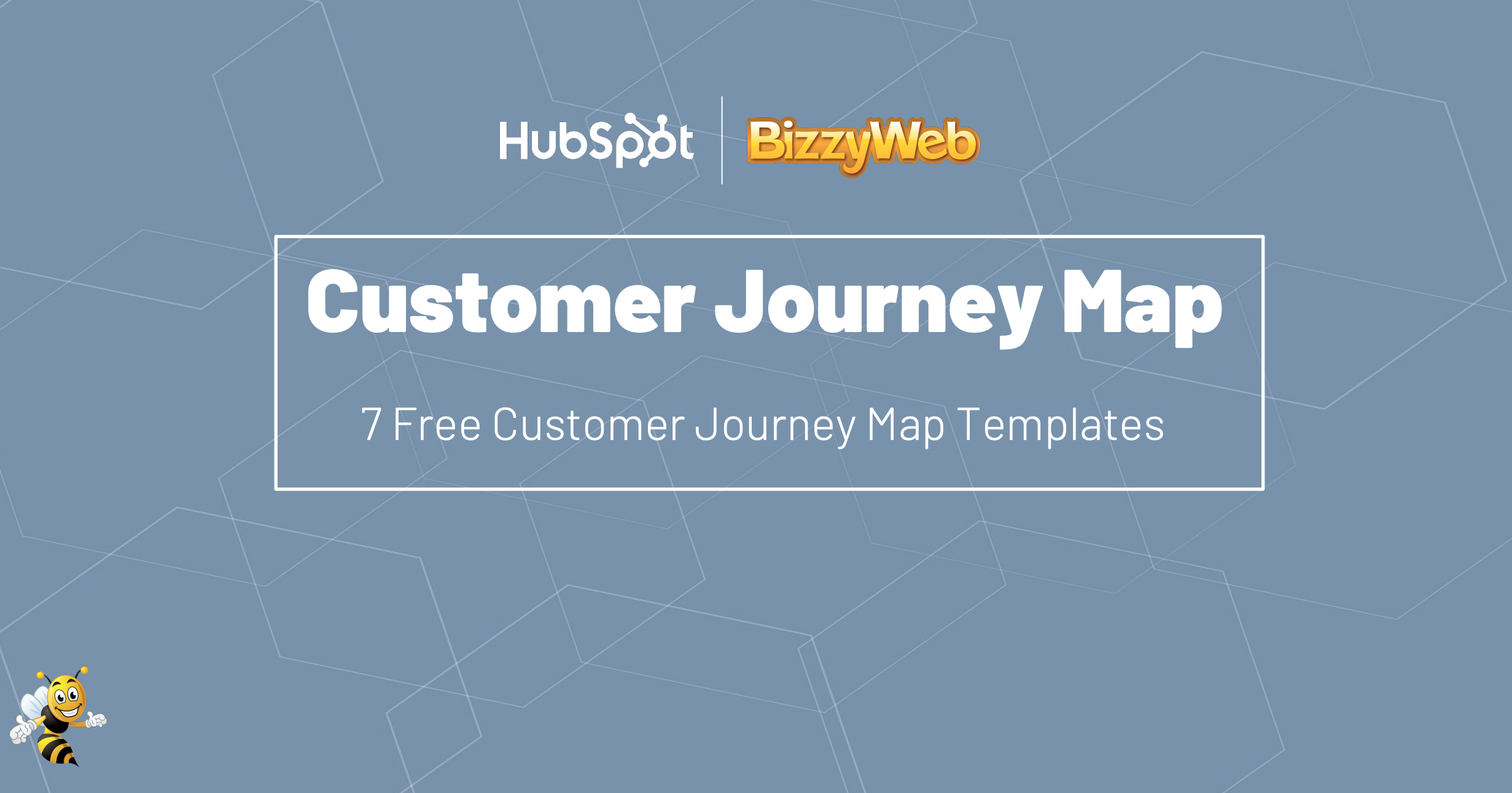 How Do I Create a Content Marketing Strategy?
1. Set SMART Goals
Before creating content, you first need to decide what you want your content to do and how you'll measure it. Creating SMART goals help you bring focus to your content marketing strategy.
SMART goals are:
Specific – Your goal needs to be unambiguous and clear.
Measurable – You should define a concrete way of measuring progress toward your goal.
Attainable – It needs to be realistically achievable for your team.
Relevant – Your goal needs to make sense for your business and overall business goals.
Timely – It's important to set a time limit on goals to keep them in check.
With these criteria, you can go beyond a vague idea to something more solid. It's most useful to start with your overall company goals and then see how content marketing can help you achieve them, rather than starting with a goal of content marketing.
Weak Goal: Get more leads
SMART Goal: Increase the conversion rate on our landing pages to 2% by March 1
Tactics to achieve this goal: Rewriting the landing pages and tweaking online ads
Weak Goal: Add new pages to the site
SMART Goal: Decrease bounce rate on site by 10% in 12 months.
Tactics to achieve this goal: Giving visitors more places to visit on the site by adding relevant pages
Creating your goals this way prevents you from just writing content for the sake of writing.
Read Now: How to Set SMART Marketing Goals in 5 Steps
2. Creating Buyer Personas
Another important building block before creating content is to know exactly who you're writing for. The exact same piece of content needs to be written and distributed in different ways depending on your audience. Consider how you would market hair gel to a 15 year old versus a 32 year old. A snappy 30 second hair routine on TikTok is much more likely to convert a teenager to a sale, whereas the 32 year old would be more responsive to a longer-form YouTube tutorial or blog post.
Buyer personas help you find your target audience. Buyer personas are fictional, generalized representations of your ideal customers. They have a name, an age, a job, family, hobbies, values and fears. They are fleshed-out and feel like real people.
For your personas, you'll want to paint a clear picture. Start with basic information:
Persona's name, gender and age
Job title and industry
Salary and household income
Location (urban? suburban? rural?)
Education
Family
Values
Challenges they face
How they use technology
You can add to this list as relevant to your industry. The more detail you can give your persona, the better. You can find information to flesh out your persona by interviewing customers, conducting behavioral research and reviewing your sales team's tactics
3. Map Out Your Buyer's Journey
Once you have your personas created, it's time to look at their path from lead to customer. This is called the buyer's journey. As defined by HubSpot, the buyer's journey follows 3 key steps:
Awareness Stage: The buyer realizes they have a problem.
Consideration Stage: The buyer defines their problem and researches options to solve it.
Decision Stage: The buyer chooses a solution.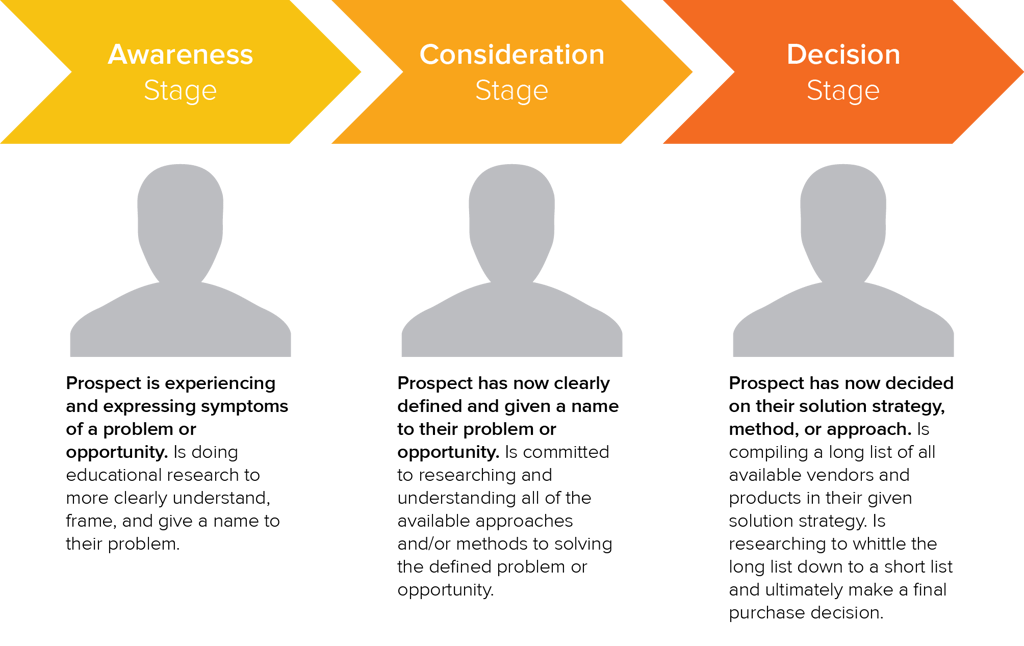 When mapping out your buyer's journey, consider what type of content they'll find most valuable at each stage.
4. Audit Your Current Content
Once you have clear goals and a clear persona in mind, it's time to review what content you currently have at your disposal. This includes:
All live pages on your website – this may include pages you don't link to anywhere on the site, but that are still live and findable by Google
All blog or news posts
Any events that are still live on your website
Published video content
Existing white papers or downloads
You'll want to create a list of all existing content in a spreadsheet. This will help you chart exactly what information you have on your website, where gaps are in your content and whether or not you have existing content that can support your goals. Our content audit tool allows you to do this quickly.
This is also a chance to review content distribution channels:
Does your website have a blog section? (Note: it doesn't have to labeled as "blog" – it just needs to be a place where you can publish new articles)
What social media accounts do you have?
Do you have an email marketing tool?
Do you have a list(s) of contacts you can email?
And finally, your team:
Who on our team has content writing experience and/or has the time to learn?
Will one team member handle all content, or will we have multiple team members write content?
Is this something we can realistically tackle in-house, or will we need to outsource our content production to an expert? How much of our content production will we outsource?
What will the content approval process look like? Who has the final say in what content is published?
You'll need to review your existing content to see what information is missing, what channels need to be created and who will be writing the content. Once you've identified what content needs to be written and who will be writing it, you can begin content creation.
Identify gaps and opportunities with a content audit template.
Organize and keep track of results by mapping out your current content.
5. Choose the Type of Content
This is where everything starts to come together. To create a content strategy, you have to decide what type of content you'll begin building, and where.
As a refresher, the basic types of content are:
Website Copy (page content)
Landing Pages
Blogs/Articles
Videos
Social Media Posts
Emails
As Copy
This is where you'll use your SMART goals, buyer personas and content audit in unison to create a clear roadmap:
Start with a goal
Know the persona(s) related to this goal
Determine what type of content is best suited for them
The path forward could be obvious – you may have found during your content audit that your website is lacking pages that speak to specific services you offer. In other cases, it can be less clear.
Let's use one of our SMART goals from earlier to walk through how you might choose the right type of content.
SMART Goal: Increase the conversion rate on our landing pages to 2% by March 1
For this example, our buyer persona works in HR, is in their mid 40s and spends a lot of time on YouTube. Based on our research, we know that this persona likes video content. During our content audit, we found two existing white papers we think this client would like. However, we also found that we didn't have any landing pages with content that promotes these white papers. Additionally, we don't have any videos that are relevant.
In order to reach this goal, we need the following content types:
New website content for our landing pages
Videos on the landing pages and for online ads
An automated follow-up email after someone downloads the white paper
This is just one example of how you might decide on a content type. The most important thing is to let your SMART goals and personas inform you, rather than starting with a desired piece of content and working backward. That way, you're developing content types your leads are more likely to engage with instead of wasting time creating content that's appealing to you but not to your ideal customer.
6. Create and Distribute Content
This is the shortest section in our how-to guide, but ironically the one that takes the greatest amount of time in real life. Now that you know what you're going to write, it's time to write the actual thing.
Gulp.
Content writing is a skill like anything else – it requires time, focus and education to hone it. However, there are still ways to create content even if you're not an expert. Since content writing could be a whole page itself, check out these guides for more detailed content writing tips:
When it comes to distribution, this will depend on the type of content. Channels include:
Your website
Social media sites: Facebook, Instagram, Twitter, LinkedIn, YouTube, TikTok, etc.
Email marketing
Google Adwords
Spotify, Google Play Music, Apple Podcasts or other audio-hosting websites
Again, your type of content, intended audience and purpose should inform the channels you use to distribute your content.
Using a content marketing tool like HubSpot makes it easy to distribute to several channels from one place.
7. Analyze Results
The final step of content marketing is analyzing your results. Again, this will depend on your SMART goal, type of content and what channels you used to distribute it.
Ultimately, your return on investment is if you failed, achieved or surpassed your SMART goal. That's the bottom line of analyzing your content: did it get you what you wanted?
Beyond that, there are several KPIs (key performance indicators) associated with content that help inform you in more detail about what is and isn't working. These include:
Visits to the site – Did they increase? Did you have more organic visitors compared to previous time periods? These are signs that content on your website is getting found online. And what pages/posts do they go to most frequently?
Site bounce rate – Are people leaving your site as soon as they visit only one page? If no, what are they clicking on? This can inform you as to what grabs your audiences' attention.
Average time on page – Readers online are natural browsers – the average time on page is about 30 seconds. If you average higher than that on certain content, that shows you your audience is interested in the topic. Lower can indicate a lack of interest, lack of content on the page or lack of calls to action.
Engagement on social media – This includes video views; post clicks, likes and shares. What posts got the most engagement? What is your audience responding to?
Email open and click rates – What types of subject lines does your audience respond to? What content are they clicking on? This is useful when crafting videos.
Access Now: How to Calculate Marketing ROI [Free Formula]
Creating a content marketing strategy is daunting, but one that pays off in the long run. Content is not only crucial for boosting your SEO, but it's the backbone of all online marketing. A solid content marketing strategy can keep steady leads coming through the door.
BizzyWeb Content Marketing Services
BizzyWeb is a full-service Digital Marketing, Inbound Marketing and Growth-Driven Web Design agency, based in Minneapolis. We offer content marketing services as part of our Digital Marketing, Web Design and Inbound Marketing programs.
Our team members are HubSpot, WordPress, Google and Constant Contact certified, and we're leading partners with each. With HubSpot, we're Platinum Tier Partners, which puts us in the top 1% of partners worldwide. More than an agency
we are a partner
The next step is yours
Let's talk