Twin Cities HUG: Optimize Your Sales - Systematically!
This event has passed. Please visit our Events page for upcoming webinars.
May 24 @ 9:00AM - 10:30AM CT
In-Person
Mark your calendars and join us in-person for an insightful morning on Optimizing Your Profits - Systematically!, presented by Jeff Pankoff of
Sandler of Minneapolis
.
Jeff will cover the following topics during his presentation:
Transform your approach to sales by mastering the fundamental principles of top performers
Unlock the power of the Sandler Selling System, a proven method that will revolutionize your sales and business processes
Unpack the psychology of modern buyers and sellers, and how to use it to dominate your market
Discover the cutting-edge sales techniques that will set you apart from the competition and close more deals
Overcome common sales roadblocks that have been holding you back and reach your full potential as a sales professional
Elevate your ability to close deals and achieve greater success in your sales career
Agenda:
9:00-9:05 - Welcome and Reminders
9:05-10:00 - Presentation by Jeff Pankoff
10:00-10:30 - Networking for Attendees
The HubSpot User Group is a free event where our in-house HubSpot experts show you how to make the most of the tools and features within the platform. It's open to everyone that's currently using HubSpot, as well as those keen to learn more about how it can help elevate your marketing strategy.
We look forward to seeing you there!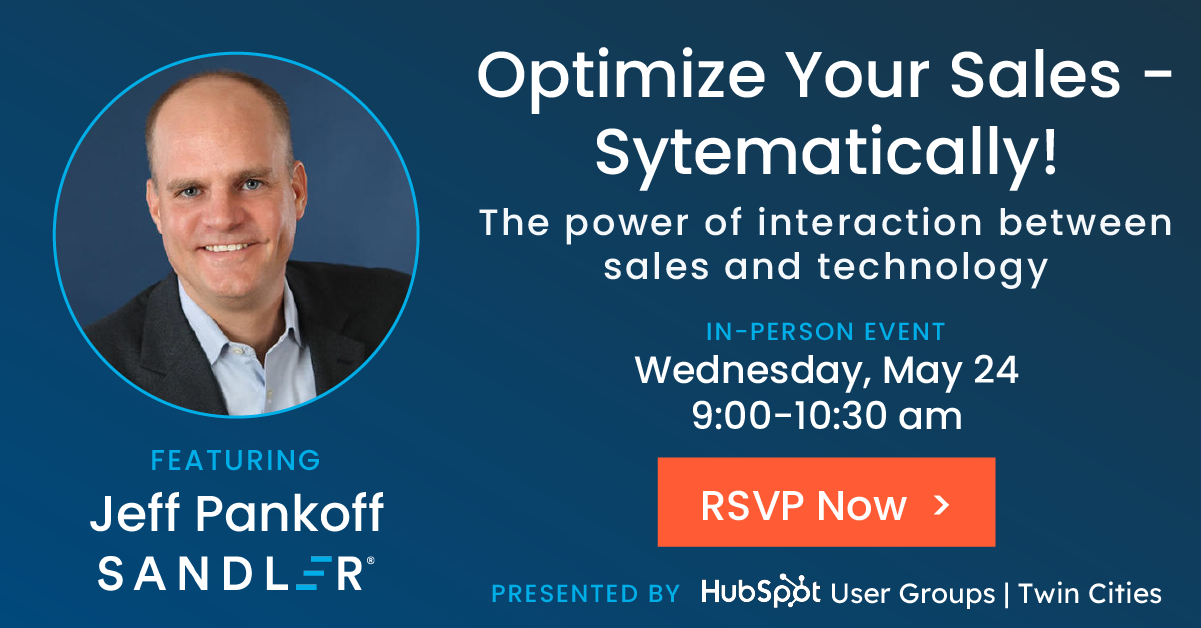 Event: Twin Cities HUG: Optimize Your Sales - Systematically!
Organizer: Jen Meyer
Location: Designers Guild Building, 305 North 5th Avenue, Minneapolis, 55401
Starting on: May 24, 2023 @ 9:00AM CT
Ending on: May 24, 2023 @ 10:30AM CT
Description: The power of interaction between sales and technology
Price: $0.00