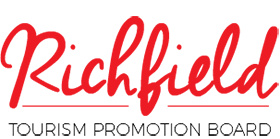 The Richfield Tourism Promotion Board (RTPB) was established as a Minnesota nonprofit in 1990 to promote activities related to regional and statewide advertising of the City of Richfield's hospitality industry. Their website was no longer functioning and was built in conjunction with the local Chamber of Commerce, which was where most of the links were directed.
With their website redesign, RTPB wanted to get a modern look with updated colors, fonts and imagery, and they wanted to update their logo. They wanted to showcase all of the dining options, events, things to do in Richfield, as well as guide users to book a hotel stay at one of the city's hotels. Being a first-ring suburb, and directly north of the Mall of America, there was a great opportunity to showcase Richfield as a destination for events throughout the Twin Cities metro area.
BizzyWeb redesigned RTPB's logo and their website, with a focus on direct-bookings of hotels. They added an events calendar and an interactive map to showcase dining options within the city. The branding was enticing because it was colorful and fun, users were enticed to dig deeper into the website to find out more information.
RTPB then started a digital marketing project with BizzyWeb to drive bookings at local hotels and grow their email list to promote local business, events and recreational opportunities to both visitors and residents of Richfield. Through the program, their social media followers went up 43%, and they had an average conversion rate on pay per click advertising of 4%. More than an agency
we are a partner
The next step is yours
Let's talk