Blind Installation and Repair, Inc. (BIR) makes the world more beautiful: one window at a time. Along with installation and repair of window treatments, the company focuses on safety and integrity of blinds.
Like many other small businesses, BIR didn't have a defined marketing, data management, or sales strategy. Once they began experiencing rapid growth, they knew they needed to have a clear plan for each of these areas of business to clean up current friction and avoid more in the future. These included:
Create a monthly marketing plan – not just a "post when you have time"

Find a scalable contact management solution for future growth

Have one centralized platform for email marketing, blog posting, social media marketing, and online advertising

Update outdated and inaccurate content on the current website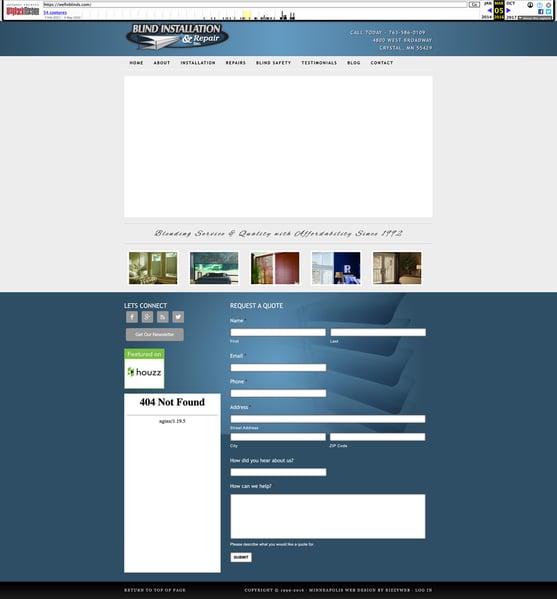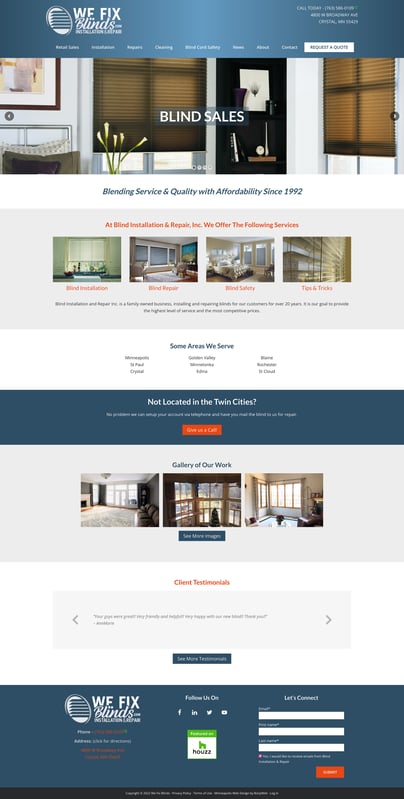 We determined that BIR would be an excellent fit for a digital marketing strategy powered through HubSpot, with some additional website work. We then quickly got started:
Researched their target market and determined that blogging, social media posting (Facebook, Twitter, and LinkedIn), email marketing, and online advertising (Google and Facebook) would be the most effective methods of marketing. Each month, BizzyWeb produces, posts, and monitors marketing content for BIR on each of these channels.

Implemented a full-scale HubSpot CRM onboarding: importing contacts, identifying key contact properties and tagging, setting up sequences, and training with the BIR team so they knew how to use the system.

Set up the marketing hub in HubSpot with templates, assets, and the necessary technical connections to send marketing emails, publish blogs, post to social media, and run online advertising.

Conducted keyword research, user experience research, and analyzed current customer behavior. We then used this information to update site content for ease of use and high conversions.
Cleaning data, creating marketing processes, and providing an all-in-one sales and marketing platform gives BIR the tools they need for all future growth. These efforts reduced internal friction and sticking points, and ensured that both marketing and sales – internal to BIR and external to BizzyWeb – have the confidence and knowledge to use HubSpot to streamline data.
They now have:
HubSpot CRM to organize contacts and data

HubSpot marketing to attract, engage and convert leads

Clear reporting via HubSpot to track ROI

An ongoing, adaptable monthly marketing strategy

User-optimized website content
0
%
Increase to page views
0
%
Increase to Social Traffic
0
%
Increase to Impressions on Facebook
0
%
Increased average conversion rate each month
"When we were first introduced to the idea of having a new CRM for a specific part of our business, we were completely overwhelmed with the idea of transitioning from pen/paper to this seemingly perfect database. However, BizzyWeb partnered with HubSpot to ensure that all of our questions and concerns were properly addressed and to put all of our overwhelming feelings at ease. The build out for our customized CRM was a long process but BizzyWeb remained diligent to finish it and ultimately provide us with appropriate training in order to manage it ourselves. As the process continued, we were happy to know that if we had any questions or wanted to restructure our CRM, that we could rely on BizzyWeb!"

— Hannah White, Sales and Marketing, Blind Installation and Repair More than an agency
we are a partner
The next step is yours
Let's talk