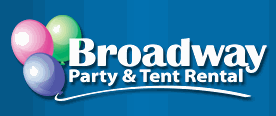 Broadway Party & Tent Rental and Broadway Rental Equipment Company (collectively, "Broadway") are family-owned companies that have been in business since 1956. Broadway helps their customers choose the right rental equipment by making sure they understand the equipment needed for most common projects and events. Broadway makes customer projects easier via quality equipment, extensive knowledge and support.
Broadway's objective for both websites was to showcase the equipment available to rent and answer client questions on how to use the equipment. The sites provide an approximate price for equipment, instructions, and FAQs designed to simplify the order process and streamline customer reservation calls. The primary call-to-action: "Once you have an idea of what you want, CALL us to place a reservation!"
BizzyWeb created two websites for each Broadway site that integrate an estimating tool to help clients get an idea of the cost for rentals. The initial site designs focused on orders, and the second redesign included mobile-responsive elements to deliver information to customers regardless of the kinds of devices they used to search and place orders. BizzyWeb also helped to make Broadway's estimating tools more scalable for team members to keep updated easily. Social media accounts were integrated into the website for one-click auto-posting of news and blog posts.
Broadway then started using BizzyWeb's Digital Marketing services to increase rankings, generate more leads for the business and help potential customers understand the produces and services offered. As a result, Broadway consistently ranks at the top of organic search for nearly all their most important searches and equipment offerings. More than an agency
we are a partner
The next step is yours
Let's talk